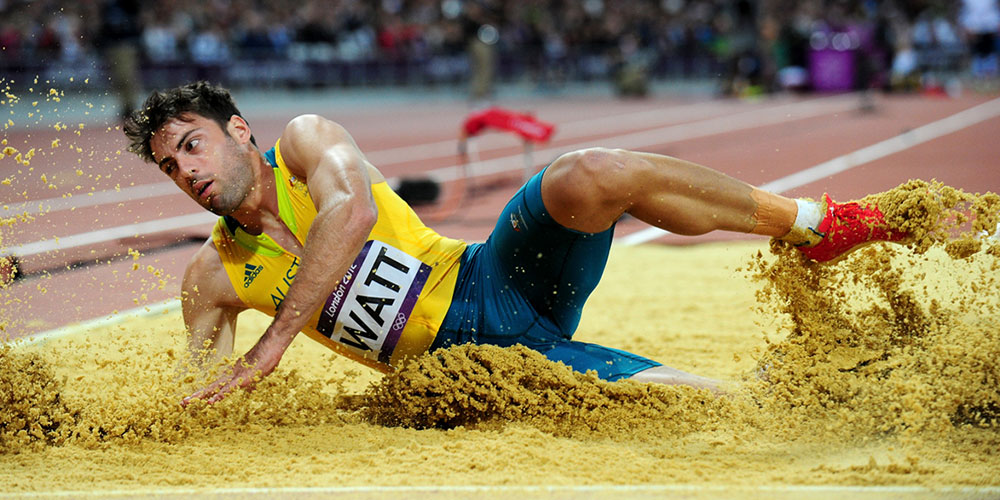 Nationality: AUS
Event(s):
Long Jump
PB:
8.54m (AR)
Twitter:
@MitchellWatt
Mitchell Watt
2012 Olympic Silver Medalist & Australian National Record Holder
Mitchell is holding the current Oceania record for the long jump – 8.54m. He is also the youngest ever Australian track and field medalist, and was the first ever Australian Long Jump medalist at a World Championship.
Mitchell's first major championship was the 2009 World Championships in Berlin where he won a bronze medal with a jump of 8.37m. He backed this up with another bronze medal at the 2010 World Indoor Championships in Doha.
Mitchell had another breakthrough in 2011, when he set a new National and Oceania Record with a jump of 8.54m in Stockholm. In the same year he won a Silver Medal at the World Championships in Daegu and ended up winning the Diamond League trophy in the Long Jump.
But it was in 2012 when Mitchell was able to win a Silver Medal at the London Olympic Games. It was also the first time he made the olympic team.
Mitchell is currently enrolled in a Law / Economics dual degree at the University of Queensland, St Lucia, where he holds a High Achievement Scholarship for his academic and sporting excellence.